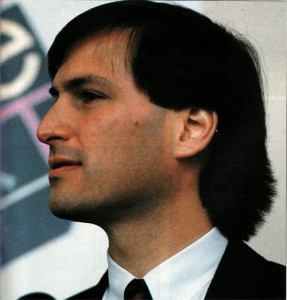 Undoubtedly Steve Jobs is inked into history with the greats – Thomas Edison, Ben Franklin and other inventors. But just as much, he also successfully turned around two major businesses and built two from the ground up, which is overshadowed by his product brilliance. How did he do both – he lived his own life and was not afraid of what he believed.
While we have all wondered with concern about Steve's well being, even those that were not Apple fans awed at Steve's brilliance and vision. We knew this day was coming soon and, finally, it arrived. I wanted to briefly share my thoughts as, like many of us, I was profoundly moved by Steve's genius. I also had the good fortune to interact with him directly on a few occasions.
In 1989 and 1990 I was busy developing an early analytics and multimedia system on the NeXT platform. I recall having one of the first NeXT machines with a beta version of the OS. While the very early machines were let to some universities, there were a few organizations – well funded – that had Steve's attention and thusly received these machines. My NeXT Cube lived in my basement for several weeks while I focused on coding the first prototypes. The Cube was a cool machine and, at the time, I had no idea how profound the opportunity was to sit in pajamas at 7am programming this black box.
NeXTStep came with almost no documentation, programmed with Objective C – a somewhat unusual systems language – and the typical Unix tools. The machine had a floptical read/write CD – unheard of at that time – and eschewed floppy disks as Steve thought they were antiquated (in the late eighties!). Most odd was this newfangled "interface builder" where one visually assembled UI elements and flipped a switch to see how they interacted. At the time I knew this was cool stuff yet I could not begin to appreciate that the NeXT machine was the product of unfettered vision and drive to create what Steve and his team believed the future should look like.
As part of the work I was performing, in 1989 and 1990 I had two opportunities to meet with Steve on the east coast. One quote I will never forget from Steve – with a straight face, he said the up coming version of the NeXT Cube was going to have 24 frame per second bi-directional video for conferencing. Folks this is 1990: the word multimedia (text AND still image) was just coming into the vernacular.
Creativity at NeXT knew little bounds. I spent some time working in Redwood City at the NeXT offices. Visiting their new factory down the road in Fremont, CA, I was intrigued by their production line to create NeXT machines – the factory employed Just-In-Time delivery from its suppliers and was a marvel of modern technologies. The robots on the assembly line, each with their own proprietary interfaces, were run by a set of NeXT machines that were coded to interface with each robot and provide Objective C API's to abstract the robots, thereby accelerating the ability to code changes into the production line. Back in those days it was not unusual to receive computer boards with jumper wires as "late fixes" to circuit logic. NeXT could change their production line so quickly that they built prototype boards on the assembly line. NeXT production machines were never delivered with a single jumper.
Steve didn't fight mediocrity. He never knew what it was. He didn't care. He strived ahead and in that manner, demonstrated the vision and capability that resides in all of us, even if he had 100x more than any of us. But what Steve did that any of us can do, is live our own lives and not the one's that the people around us may frame. That is why, simply, he collected so many exceptional followers and believers; they just wanted to be a bit more creative and forward thinking like Steve.
Lastly for anyone that has not seen Steve's commencement speech at Stanford University in 2005, it is well worth 12 minutes of one's time.